Type II Diabetes
is Reversible
Get the Lifestyle Prescription to reverse Type II Diabetes. Our Canadian, physician-led program guides you to safe and sustainable changes, allowing you to take control of your health.
Reduce insulin resistance
Reduce or eliminate medications
Restore normal blood sugar
Our Program
Physician-Led
You will work directly with a Canadian physician from your province and a team of dietitians and health coaches to learn and adopt sustainable lifestyle changes.
Safe & Supervised
Lowering your blood sugar can result in some medications being reduced or eliminated.
Our physicians work with you to make these changes when needed while keeping your family doctor informed.
100% Virtual
All group medical sessions and consultations with your team are conducted through video calls. No travel or sitting in waiting rooms is required.
Diabetes Reversal
How Does Diabetes Reversal Work?
Our program is based on clinical and scientific research conducted in the last decade, which has demonstrated that Type II Diabetes is a disease driven by two interrelated cycles that can be reversed.
We break down and simplify the science of Type II Diabetes progression and reversal here:
Our Approach
4+2 Strategy
Our program will teach you the 4+2 Diabetes Reversal Strategy, focusing on 6 key lifestyle behaviours, involving diet, sleep, light exercise, stress reduction, and more to manage insulin and restore fat burning.
4+2 is
Different
Our approach asks you to make small steady changes that you can sustain. Better is more important than perfect.
No Calorie Counting
We focus on what to eat and when to eat, not how much you eat.
Common Sense & Whole Foods
We won't ask you to put butter in your coffee, down nutritional shakes, or do anything else extreme. We apply only common sense & whole food principles.
Don't Feel Hungry All the Time
Our bodies can naturally manage our appetite, as long as we feed them foods they recognize.
Moderate Exercise Only
Whether it's walking, riding a bike, or running, we only ask you to do exercise you're comfortable with and can maintain.
Changes You Can Sustain
We only ask you to make changes that you can sustain — eating foods you will enjoy and eating enough to feel full.
Learn Why, As Well As How
It's easier to make changes and sustain them if you know why you're doing them. We teach you the rationale for each change we ask you to make.
Virtual
Access from Home
Our program is 100% virtual. You can access sessions and materials from the comfort of your home.
Virtual Physician Visits
Consultations with our physicians are done by video call, and can be completed from any computer, tablet, or phone.
Virtual Group Sessions
In groups of 20-30, you will attend weekly sessions with a physician where you can ask questions and hear about the successes and challenges of others in the program.
Does anyone else struggle with family events? Any strategies for an unhealthy potluck?
Online Community
Ask questions in our online community, and both your peers and our healthcare practitioners will answer them.
Digital Learning
Work at Your Own Pace
Watch videos, complete lessons, and check off tasks at your own pace.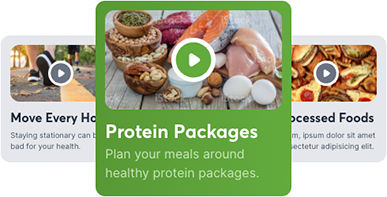 Video Lessons
Watch videos explaining core concepts. Didn't understand everything the first time? Rewatch as many times as you need.
How often do you sleep 7-8 hours?
Less than 3 nights per week
Self-Assessments & Exercises
Answer questions and complete exercises to show where you're doing well and where you need to focus.
Report
Insulin Resistance
Report
Pancreatic Function
Personal Health Reports
Different people are, well, different. Understand what your lab results and other markers show about your current health and diabetic reversal path.
SEE FIRSTHAND
Many Patients Have Successfully Reversed Their Type II Diabetes
See how other patients' lives have changed from their diabetes reversal success.
Eliminate Medications
Carol, 57, was able to discontinue Insulin & Jardiance after 5 months
The 4+2 Diabetes Reversal Program was a "game changer". I was initially in denial of my diagnosis and felt a lot of "self blame" for ending up with type II diabetes. Dr. Byrne and the group made me realize that I was not alone and that I needed to understand the disease and move forward with steps to improve my lifestyle and diet. I highly recommend this program and commend the team for being so positive and providing the tools and education I needed to take back control!
Carol, age 57
Reduce Blood Sugar & A1C
Bob, 73, lowered his HbA1C from 10% to 6.7%
I would highly recommend the program to family and friends... The program gave me the tools to reduce and balance my blood sugar. I only wish I had this information 10 years ago. I have always been interested in reading about diet and exercise and how it benefits the body but this provides very specific information in one place which I was not able to find elsewhere. I also found out that many things that I thought were healthy choices were actually not. I have gained a wealth of knowledge about diabetes.
Bob, age 73
Reach Your Goals
Alicia, 57, finally succeeded after 25 years with Type II Diabetes
I have been a type 2 diabetic for about 25 years and attended two previous in hospital clinics and been in the care of some pretty good specialists. What I have seen is the way diabetes is now approached and this program is an excellent example of that change in thinking. [This program] has created an integrated and functional approach and provides such a good understanding of the underlying causes and solutions to managing or even reversing type 2 diabetes. I couldn't recommend this program strongly enough!
Alicia, age 57
Our Program
12 Weeks to Take Control of Your Diabetes
Learn the 4+2 Diabetes Reversal Strategy - a comprehensive, evidence-based approach to diabetes reversal. Anyone with provincial health coverage can attend for free.
Get Started
12-Week Program
12 Virtual Group Sessions
Interactive Educational App
Fully Covered for BC residents
Not from British Columbia?
Start the sign-up process to confirm availability in your province.
Virtual Group Sessions
In groups of 20-30, you will attend weekly sessions with a physician.
Virtual Physician Visits
Meet with a doctor from your province to discuss your history, labs, medications and plan.
Video Lessons & Exercises
Watch videos explaining core concepts and complete weekly exercises.
Personal Health Reports
Understand what your lab results and other markers show about your diabetic reversal path.
Additional Support
Need More Help?
Interested in getting extra support? Start with the 12-week program above and then add additional services afterward.
1:1 Virtual Sessions with Dietitian
Personalized 4+2 Nutrition Plan